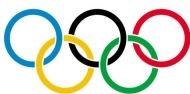 C'est le Telegraph qui a signalé dès le 19 juin, qu'un document avait fuité et proposait – une dizaine de jours avant la cérémonie d'ouverture somptueuse concoctée par Danny Boyle- ce qui semblait être la bande son de cette féérie en quatre actes sur l'histoire de la Grande Bretagne. La musique de l'ouverture des Jeux Olympiques aurait fuité. Non mais tu te rends compte….
Et le moins qu'on puisse dire c'est que malgré cette indiscrétion il nous a scotché le bougre Boyle (pas Susan hein, Danny)… Avec une cérémonie qui envoie Philippe Découflé et Franco Dragone autres metteurs en scènes d'événements sportifs regardés par des milliards de personnes, au rang d'anecdotes.
Parce que sérieux, en plus du plan plein d'herbes et de bosses… Faire sauter la reine mère en hélicoptère dans les bras de 007 Daniel Craig, vanter la National Health au pays de la libre entreprise et faire venir Tim Berners Lee (papa des internets) dans l'événement le plus cadenassé au niveau des droits de diffusion, j'ose à  peine imaginer comment l'esprit rock du bonhomme a osé y songer.
La bande son réelle (merci de vos retours sur ce point, elle progresse du coup) est assez proche dans l'esprit du document qui a fuité, et comme un film de Boyle retrace le meilleur de la pop anglaise. La voici expurgée des différents morceaux »classiques » (que je laisse sur Spotify)
MISE A JOUR: La BO officielle est en vente aux UK et donc disponible en partie désormais sur Spotify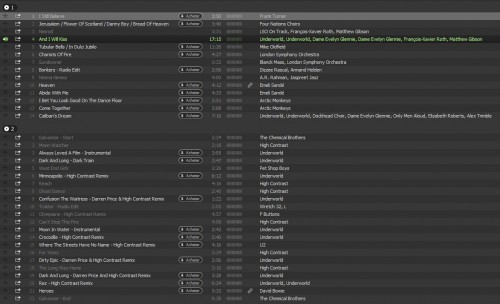 Notre listing
-Blanck Mass & Royal Philarmonic Orchestra: The sundowner

– The Who: Baba ORiley
– Muse: Map Of The Problematique
– Fuck Buttons: Surf Solar
– Alex Trimble: Caliban's Dream

– The Clash: London Calling
– Mike Oldfield: Tubular Bells
– OMD: Enola Gay
– The Jam: Going Underground
– The Rolling Stones: (I Cant Get No) Satisfaction
– The Beatles: She Loves You
– Millie Small: My Boy Lollipop
– Led Zeppelin: Trampled Under Foot

– The Specials: A Message To You Rudy
– David Bowie: Starman
– Queen: Bohemian Rhapsody
– Eric Clapton: Wonderful Tonight
– Sex Pistols: Pretty Vacant
– New Order: Blue Monday
– Frankie Goes To Hollywood: Relax
– Soul II Soul: Back To Life
– Happy Mondays: Step On
– The Kinks: All day and all of the night
– Eurythmics: Sweet Dreams Are Made Of This
– The Prodigy: Firestarter
– Blur: Song 2
– Underworld: Born Slippy
– Dizzee Rascal: Bonkers
– Amy Winehouse: Valerie
– Muse: Uprising
– Tinie Tempah: Pass Out
– David Holmes: I Heard Wonders
– Arctic Monkeys: I Bet You Look Good On The Dancefloor (covered by Arctic Monkeys)

– Arctic Monkeys: Come Together (Beatles Cover)

– The Beatles: The End
Pendant la parade
– Underworld Rez
– Chemical Brothers: Galvanize
– Pet Shop Boys: West End Girls.
– Adele: Rolling in the Deep.
– Bee Gees: Stayin Alive.
– David Bowies Heroes.
(…)
Puis
– Pink Floyd Eclipse

– Paul MacCartney- Hey Jude

Pour confirmer cette première liste, notons que Shazam a publié la liste des chansons les plus taguées via l'application pendant la cérémonie d'ouverture. Ce qui confirme la liste ci dessus et la précise. En gras les titres que je n'avais pas pointé.
1. Dizzee Rascal & Armand Van Helden, »Bonkers »
2. Mike Oldfield, »Tubular Bells »
3. London Symphony Orchestra, »Chariots Of Fire »
4. Sex Pistols, »Pretty Vacant »
5. David Holmes, »I Heard Wonders »
6. The Jam, »Going Underground »
7. New Order, »Blue Monday »
8. Queen, »Bohemian Rhapsody »
9. The Who, »My Generation »
10. Underworld Feat. Dame Evelyn Glennie, »And I Will Kiss »
11. Millie Small, »My Boy Lollipop »
12. The Prodigy, »Firestarter »
13. The Rolling Stones, »Satisfaction »
14. Underworld, »Born Slippy »
15. Mud, »Tiger Feet »
16. David Bowie, »Starman »
17. Rizzle Kicks, »When I Was A Youngster »
18. Brian Eno, »An Ending »
19. The Beatles, »She Loves You »
20. Eric Clapton, »Wonderful Tonight »
La playliste du Telegraph, ci joint, ne s'est d'ailleurs avérée qu'indicative, puisque je suis certain de n'avoir entendu ni Coldplay, ni Oasis, ni d'ailleurs le God Save the Queen des Sex Pistols. (Je la laisse à  la suite dans Spotify comme ça vous avez les morceaux classiques aussi)
Hésitez pas à  commenter, à  regarder vos chaînes de replay favorites pour essayer de m'aider à  mettre la playliste la plus exacte possible sur Spotify. J'ai essayé de trouver tous les groupes, mais les Led Zep, Oasis et autres Beatles ne sont pas encore arrivés à  trouver un arrangement avec la liseuse musicale suédoise (bise @pascal_negre)
Crowdsingin' !!!!!!
Tracklist
PART ONE
Captain Algernon Drummond, William Johnson Cory – Eton Boating Song
Elgar, AC Benson – Land of Hope and Glory
The Jam – Going Underground
Muse – Map of the Problematique
Big Ben Chimes
Sex Pistols – God Save the Queen >>> NON
The Clash – London Calling
Simon May – EastEnders Theme
The Shipping Forecast
Sir Hubert Parry, William Blake – Jerusalem
Elgar – Nimrod
Handel – Arrival of the Queen of Sheba
Eric Coates – Dambusters March
Handel – Music for the Royal Fireworks
Monty Norman – James Bond Theme
Mike Oldfield – Tubular Bells
Mike Oldfield – In Dulci Jubilo
Vangelis – Chariots of Fire
BBC News 1954
Arthur Wood – The Archers Theme
Winifred Atwell – Black and White Rag
PART TWO
Sugababes – Push the Button
OMD – Enola Gay
David Rose – The Stripper
Lionel Bart – Food Glorious Food
Irwin Kostal, Richard Sherman, Robert Sherman – Bedknobs and Broomsticks
Rizzle Kicks – When I Was a Youngster
Eric Clapton – Wonderful Tonight
Colin Tully – Gregorys Girl Theme
William Pitt – City Lights
The Who – My Generation
The Rolling Stones – Satisfaction
Millie Small – My Boy Lollipop
The Kinks – All Day and All of the Night
The Beatles – She Loves You >>> PAS SUR SPOTIFY, j'ai trouvé un fake correct

Mud – Tiger Feet
Led Zeppelin – Trampled Under Foot >>> PAS SUR SPOTIFY le fake donne une idée.
The Specials – A Message to You Rudy
David Bowie – Starman
Queen – Bohemian Rhapsody
Sex Pistols – Pretty Vacant
Duran Duran – The Reflex
New Order – Blue Monday
PART THREE
Frankie Goes to Hollywood – Relax
Soul II Soul – Back To Life
Happy Mondays – Step On
Eurythmics – Sweet Dreams (Are Made of This)
The Verve – Bittersweet Symphony
Prodigy – Firestarter
Underworld – Born Slippy
Jaan Kenbrovin, John William Kellette – Im Forever Blowing Bubbles
Blur – Song 2
Dizzee Rascal – Bonkers
Tigerstyle – Nacnha Onda Nei (contains Michael Jackson – Billie Jean, Queen & David Bowie – Under Pressure and Ilaiyaraaja – Naanthaan Ungappanda)
Arctic Monkeys – I Bet You Look Good on the Dancefloor
Mark Ronson & Amy Winehouse – Valerie
Radiohead – Creep
Muse – Uprising
Kano & Mikey J – Random Antics
Tinie Tempah – Pass Out
MIA – Paper Planes
Coldplay – Viva La Vida
The Chemical Brothers – Galvanize
PART FOUR
Franz Ferdinand – Take Me Out
Kaiser Chiefs – I Predict a Riot
Roll Deep – Shake a Leg
Adele – Rolling in the Deep
Oasis – The Hindu Times >>> NON
Oasis – Wonderwall >>> NON
Emeli Sande – Heaven
William Monk/Henry Francis – Abide With Me
Pink Floyd – Eclipse
The Beatles – The End

Paul MacCartney – Hey Jude
David Bowie – Heroes
Eric Spear – Coronation Street Theme
Ron Grainer – Doctor Who Theme
John Philip Sousa – Monty Python Theme/The Liberty Bell
David Bowie – Absolute Beginners
Denis Verloes